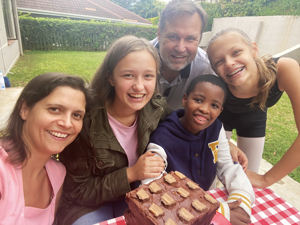 Grant and Lil
Grant and Lillibet live in KZN Umhlanga . Grant is the senior pastor at Christ Church Umhlanga (www.ccu.org.za). Besides overseeing a busy household and serving 3 active children, Lillibet is deeply involved with Women's Work and discipleship at Christ Church.
From oldest to youngest, the 3 children are Talita, Elizabeth and Levi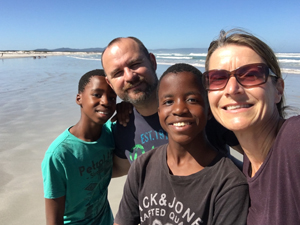 Bruce and Christina  
Bruce, Christina, Robbie and Jamie have been staying in Hermanus for 6 years
now. After some years of homeschooling, the boys are attending Hermanus
Primary school. The whole family are part of ministry at Christ Church
Hermanus, and Christina has started a ministry to ladies in the nearby
township, She, with the help of some ladies from Christ Church Hermanus,
teach women from Zwelihle how to sew while sharing with them the Gospel.
Bruce continues with his music and video productions, but he has also
recently started a new venture in the form of a store selling and repairing
apple phones and laptops. His website is: www.bruceretief.com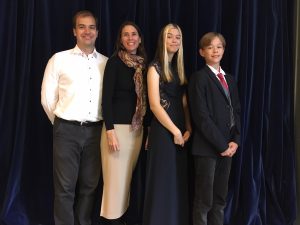 Daniel and Debby 
We have been living in Norway since 2009. We are building relationships with Christian leaders from various denominations. Our prayer is to establish a "Proclamation Trust" for Norway, reminding pastors to trust the power of God's Spirit speaking through God's Word.
In 2012, by God's grace, we planted an international church in our small town,situated about 2 hours west of Oslo. We have people from many different countries and currently hold services in Norwegian and English.
Norway has a long gospel history and a great cultural heritage – but currently the churches are weak, liberal and only about 3% actually go to church! The soil is hard – but what is impossible with man is possible with God. We are grateful to God for what he is doing amongst us. Please keep us and our country in your prayers.
Daniel works part time to keep food on the table.
Read more on our website: rocknotodden.blogspot.com