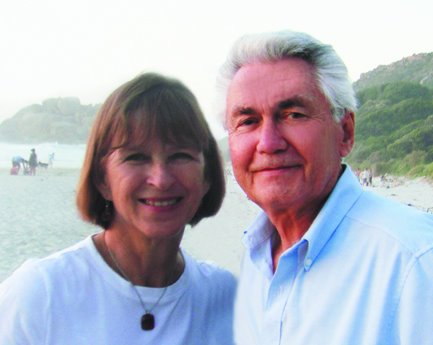 Frank Retief was born in Cape Town in 1942. He was converted to Jesus Christ at a Scripture Union camp in 1958.  With his conversion there was placed in his heart a deep conviction that all men and women had an eternal destiny of either everlasting life or everlasting banishment from God and the person who makes the difference was Jesus Christ.
Frank trained at the Bible institute of South Africa and graduated in 1965.  He was invited to join the ministry of the Church of England in South Africa, a small Evangelical Anglican denomination.  He served as a curate to Bishop Stephen Bradley at Christ church Pinetown KZN, until 1968 where he and his new wife Beulah were sent back to Cape Town to start a new church in Kenilworth, Cape Town.  They served at St James church in Cape Town for 31 years.  He retired as rector of St James church to become the Presiding Bishop of the Church of England in South Africa.  He retired from this position in 2010.
North West University conferred an honorary doctorate on Frank on 20th May 2011.  It was PHILOSPHIAE DOCTOR HONORIS CAUSA THEOLOGY.
This was a great surprise and Frank thought he was totally unworthy of such an honour from such an internationally respected institution. Nevertheless it was done and Frank is very grateful.
He and Beulah live in Bergvliet in Cape Town and remain active in ministry through preaching, teaching , voluntary pastoral work and writing.  He has authored a number of books.  His two latest releases are SAFE – how to be sure of the love of God, and a biography of Festo Kivengere the famous Ugandan bishop who was a great evangelist and a man of great courage. During his time he and his colleagues had to face up to the wrath of Idi Amin, one of Africa's worst dictators.
Frank and Beulah have 3 grown up children and 7 grandchildren.